Services
We handle the responsibility of ensuring that your project develops and operates at full potential in cost and resource efficient conditions and then go the extra mile, bringing you solutions that reflect the commitment and passion you invest in your business.
Our integrated maintenance and management services monitor and maintain your assets so that they deliver high performance and the greatest return. With our technical, financial and legislative teams working in sync, we provide optimal technical solutions, all the while managing costs and service time. We offer a wide range of service packages tailored to the specifics of your industry and to the character of your business. Our operations oversee the functionality of your technology or work facility, while our asset management division is committed to safeguarding and improving your assets.
We take care of your technology
We handle and ensure optimal functionality and guarantee the efficient operation of your technology, property or business.

We implement technical solutions informed by sound financial decisions and in keeping with legal norms.
In our operations we strive to ensure efficient use of resources and establish safe and energy-saving work practices in a clean, sustainable environment.
We know excellence lies at the crossroads between technical innovation and human development, and thereby we train and specialize continuously to bring these two aspects together.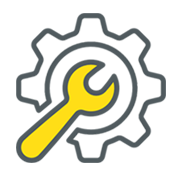 Preventative or corrective maintenance
We provide service packages offering a wide range of preventative or corrective actions designed to integrate maximum quality with the greatest efficiency.
We provide maintenance and monitoring services to electrical systems for power plants and manufacturing facilities. Our services include the supervision of electrical installations and the complete range of repairs and revisions necessary in order to ensure the proper functioning and the good conservation status of your installations and equipment.
We deliver monitoring solutions ensure sustained high system performance and prevention against failure or loss.
We employ monitoring systems that assess industrial or manufacturing plant output and the functionality of equipment or technological parts, responding to drops in performance or malfunctions in record time. We run a continuous analysis of the performance of your technology, with data reading, processing and storing, providing you greater control over your activities.
Our range of technical solutions includes the repair, renewal or replacement of electronic elements required for the integration or maintenance of existing technological systems.
From initial troubleshooting to diagnosis and implementing solutions, we handle problems observing maximum safety and ensuring a clean environment, appropriate waste disposal and minimal use of resources.
We promise to meet any technical problem with a solution. At Telenergia, we are focused on constant improvement and always eager for a challenge.